View Larger Map
Crossing the Alps via the scenic route
And—bonus!—no need to pay the highway tax for Austria, as I would be avoiding the highway while driving through. Not that this was an objective in choosing the scenic route, and it didn't really work out like that in the end, as you'll see later on...
Anyway, the next day started out worse, as the weather had turned nicely wet and overcast. Combined with the numerous road works going on on the German highways, the view out of my windscreen was often like this the first couple of miles:
But it soon got better, as I left the German highway behind and headed off into the mountains on the lesser roads. The first part of these roads were still pretty large roads, somewhat like the N-roads in France. Maximum speed 100 km/h, so I made pretty good time.
And then I got to the part I had been looking forward to.
If you look a bit closer at that google map at the top of this post, you'll notice the track goes through a green part in the middle of Austria. If you zoom in, you'll be able to read that that green area is called Nationalpark Hohe Tauern. And the road that lies beneath that track through the Nationalpark Hohe Tauern is called the Großglockner Hochalpenstraße. And the Großglockner Hochalpenstraße just happens to be a toll road. Which costs €29.00 to pass. So there went my 8-odd euro savings for the Austrian highway tax...
I actually very briefly played with the idea to head back and find another road over the Alps that wasn't a toll road. Very briefly. And I'm very happy I didn't do that, after my experience going the other way on my trip back. But that's a story for another post.
So, I bit the bullet, paid my toll, and went on my way. And glad I did, because it was one of the nicest drives I've had. Even despite, or maybe because of, the weather. Which wasn't very good. As you can see: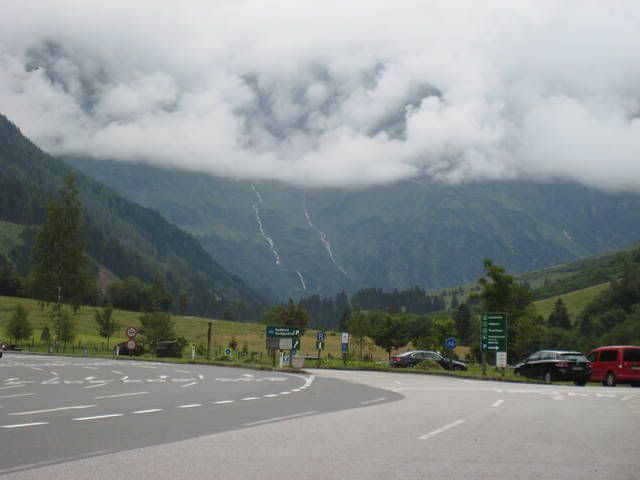 So even though the weather conditions weren't that good, I had a very good time on the Großglockner Hochalpenstraße. And it was totally worth the €29.00, for the views, and the driving itself. I would totally recommend taking this route on your next trip crossing the Alps.
After the Großglockner Hochalpenstraße, the roads gradually got larger again after crossing into Italy, and finally I rejoined the highway a bit south of Udinese, in Italy.
I had bought a special camping guide for Italy, Croatia and the surrounding countries, but in the end I never once used it on this trip. The road maps I had with me had little markers on them pointing to camping sites, and I always managed to find them by driving to the general area and then following the signs next to the road. A lesson for next time, maybe.
The first night sleeping in my tent was on a nice little camping near Aquileia, Italy. I arrived there when it was still light and dry, but soon it started to rain softly. I decided to quickly put up my tent while it was still reasonably dry, and very glad I did. Soon it started to rain harder, and after a while it came pouring down. I took shelter in my car for a bit, and soon it slowed down again. I had eaten something after I left the highway, so I didn't need to cook, luckily.
After buying some internet time at the front desk and whatsapp'ing with some of my family I went to bed. And discovered my tent was leaking. Crap.
Luckily I was on my own, so I could position my sleeping bag diagonally and avoid the couple of drips that were seeping through. Maybe not a bad idea to check the tent for leaks before heading out next time. And maybe it wasn't such a good idea to rely on a tent that was more than ten years old already. Another lesson for next time, I guess...
So I've been back from my road trip to Albania for two weeks already. It's probably about time I wrote something about that, isn't it? So here goes.
I left for Garching, near München, on Friday, the 22nd of July. Apart from quite a bit of baustellen on the Deutsche Autobahn, it was a relatively uneventful day of driving.
I had a reservation at the Etap hotel in Garching, which is just a notch above the really bare-bones Formula 1 hotels. In these Etap hotels you actually get a toilet and shower in the room.
After the first day of driving my odometer should have said something like 815 km, but I only remembered to set it to zero somewhere past Utrecht, so it was a bit less than that.
Which also means that the total distance driven during this two week road trip is a bit more than the 5500 km the odometer registered (nearly to the kilometer, by the way, I think it was 5498 or something close to that).
This is the first in a series of posts about my road trip, and there's a lot more to come. Including, but not limited to: lots of rain, great driving along mountain roads, a chance encounter on the Croatian highway, a collision on a Croatian road, understeer on Korčula, beautiful Croatian coastal roads, waterfalls and lakes near Plitvička, thunderstorms with hail, dirt roads flanked by landmines, and a great TraSHHH weekend in Tirana.
This year the annual trashhh reunion is being held in Albania. The trashhh organisers insist that it's a wonderful country to spend some time in. So I decided, what the hell, I've been to nearly every trashhh weekend since the very start, so I should be there in Albania, too.
So the plan is to drive down there from Amsterdam. That's about 2.300 kilometres. And Google Maps tels me I can do it in 1 day and 1 hour.
But that's not the plan. The plan is to load up my car with (mostly) old camping gear and see if I still remember how to set up a tent. I have exactly a week (Friday to Friday) to get to my destination, so that should be more than enough to take it fairly easy.
I was thinking of aiming for south Germany for the first day of driving, probably somewhere south of Augsburg. Then the next day push through to the vicinity of Trieste, Italy.
From Trieste to Albania is more than 14 hours driving according to Google Maps, but part of that is probably because it's sending me on a detour with a ferry. Google hasn't gotten round to mapping Bosnia and Herzegovina for some reason, apparently, as it's unable to route through there. Which is the reason, I assume, it sends me on a detour with a ferry to stay in Croatia, instead of through Bosnia and Herzegovina. So I'm guessing the real time to get from Trieste to Albania is a bit less than 14 hours. Still, not something to do in 1 day, so say we split that distance in two and do about 7 hours both days.
That comes down to 4 days of driving, with three days of about 7 hours driving and one of about 5. But I have 7 days to get there. So I'll probably drive the two days to get to Trieste back to back and then spread out the rest of the trip over the remaining 5 days. I just need to find the places I want to camp at between Trieste and Albania. Any suggestions?
I haven't implemented comments on this site (and probably won't), so feel free to send any suggestions, tips, warnings, to my twitter account: @thijso. I will really appreciate anything you send to me. And if you know me, and therefore know my e-mail, feel free to send it there!